WELCOME!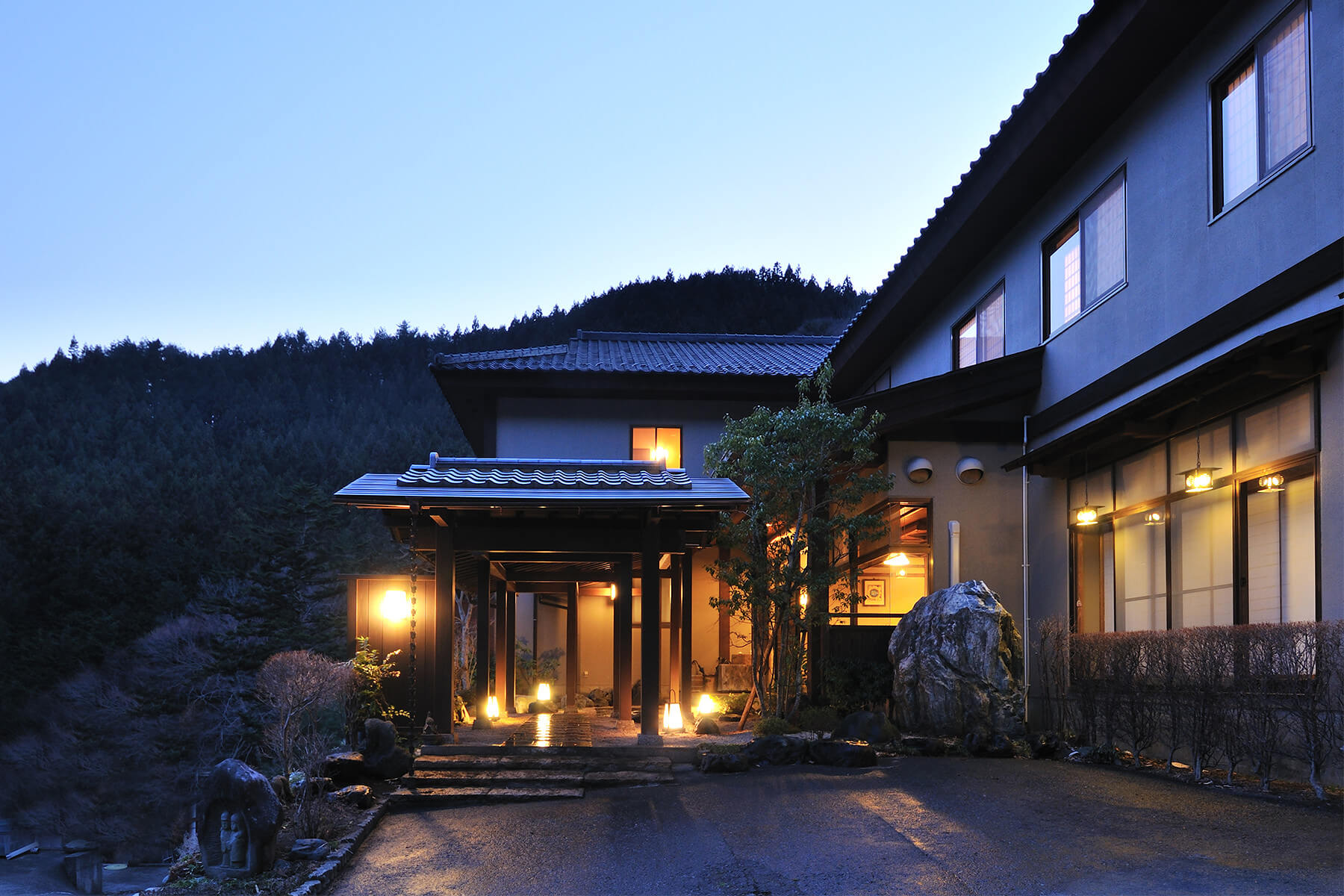 Shima Onsen in Gunma prefecture is a hot spring resort still with some Japanese traditional scenery. The name of this Shima Onsen, literally means 40,000 referring to the legend that this hot spring can cure 40,000 kinds of sickness. Yoshimoto is a small 8-rooms hot spring Ryokan (Japanese style inn) with a design to cherish the Japanese style such as Tatami (straw mat) guest rooms and Irori (Japanese style open hearth) at the lobby. Please spend your special time with tasty Japanese cuisine, relaxing hot spring, and heartfelt "Omotenashi (hospitality)".

INFORMATION
Check in 3:00PM-6:00PM / Check out 10:00AM
Guest Rooms:8 Rooms
Onsen bath: 2 open-air baths, 2 indoor bath, 1 chartered bath
Facilities: Lounge, Private Dining Room, Bar
Free-rental bicycles for guests!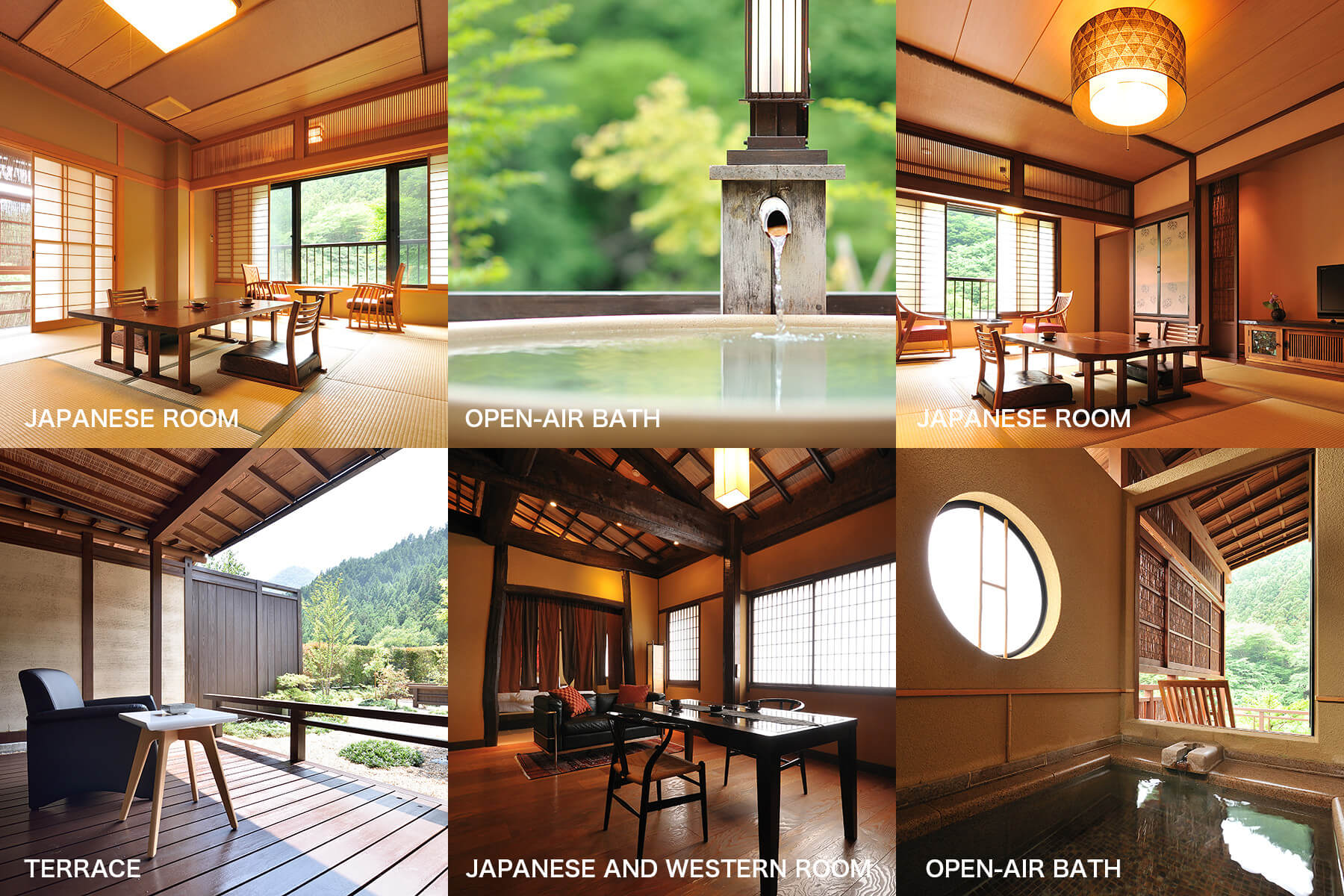 GUEST ROOMS
Four of the eight guest rooms are furnished with a private bath.
We have Japanese style guest rooms with Tatami (straw mat) and western style guest rooms with flooring.
Amenity
TV / phone / kettle pot / tea set / refrigerator / dryer / ironing / humidifier / with individual air conditioning washing machine / toilet / soap / cleansing soap / Toothbrush / razor / shower cap / Comb / towel / bus towels / yukata / slippers / safe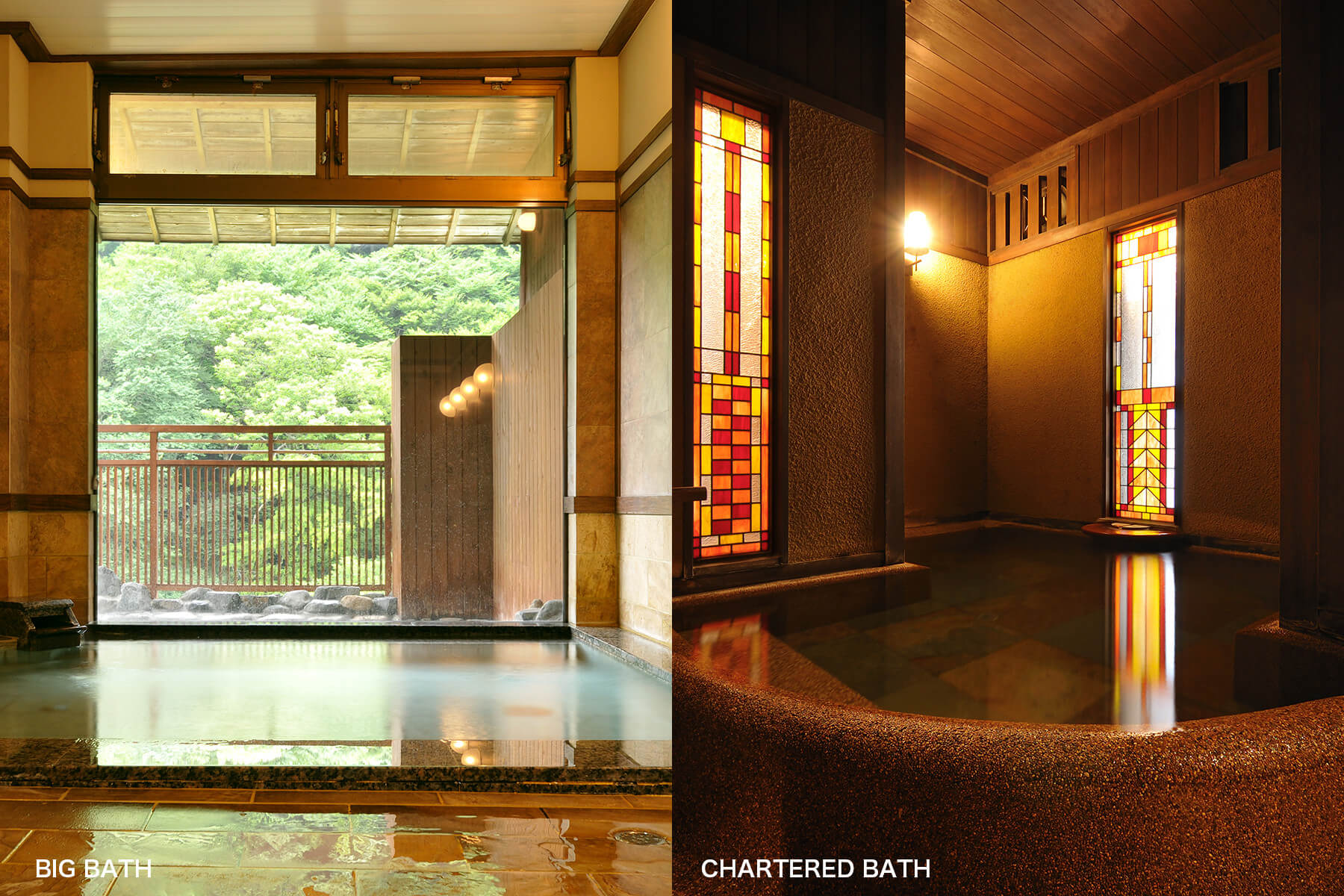 ONSEN
We have men's and women's big baths and a chartered bath, which are open for 24 hours a day.
Both of the men's and women's big baths have a large indoor bath and a open-air bath.
The chartered bath is such that the signboard outside is turned on when the door is locked from inside. You may use the chartered bath when the signboard is off to indicate it is vacant.The use of the chartered bath is limited to about 30 min at one time, but you may use it as many times as you want when it is vacant.
Spring quality / sodium, calcium sulfate spring
Efficact / chronic women's diseases, skin diseases, rheumatism, nerve pain, gastroenteropathy, chronic costiveness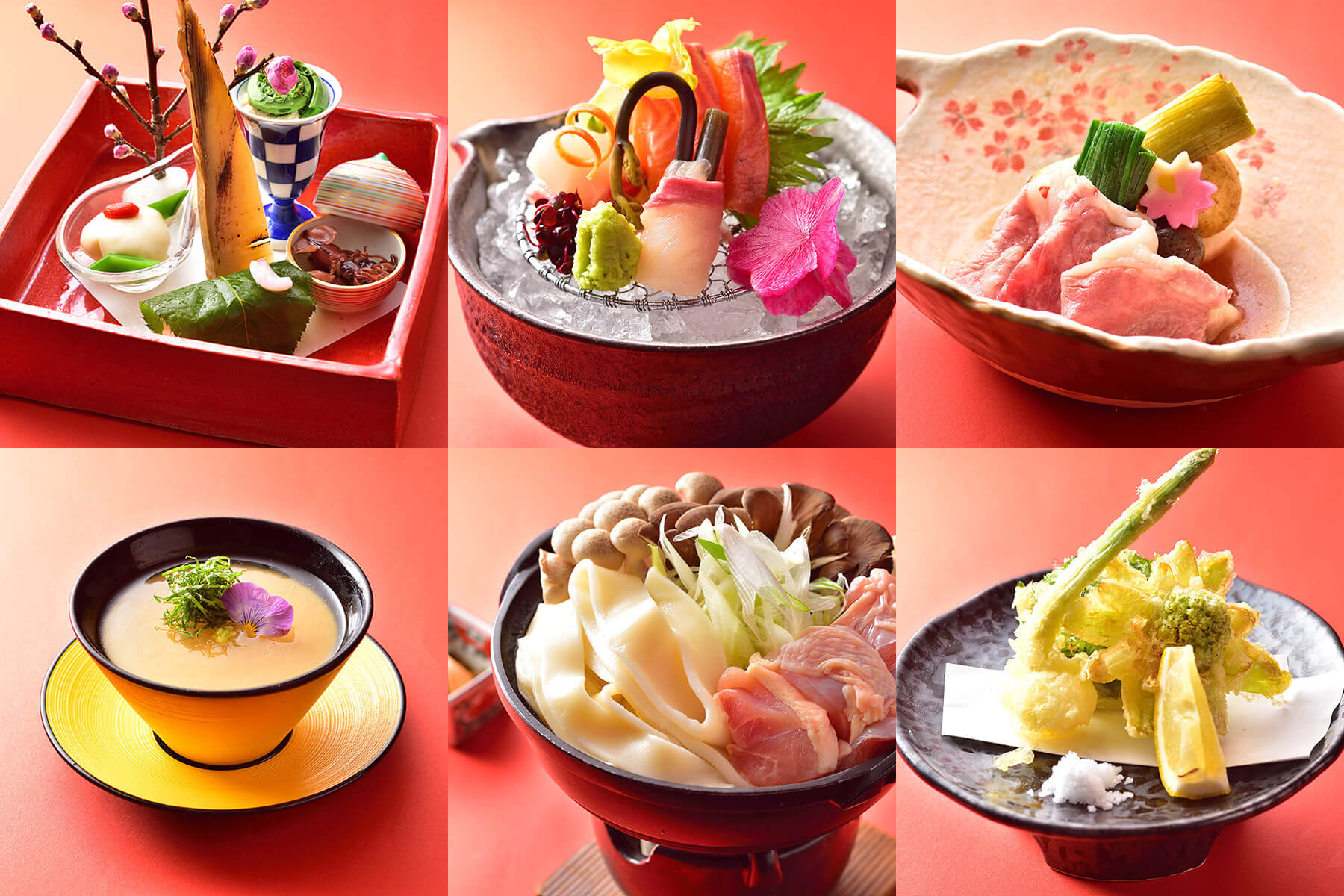 CUISINE
Please enjoy Yoshimoto's original cuisine of local seasonal foods based on Japanese traditional skills.
We have a wide variety of Japanese alcohols including Japanese Sake and a hundred or more brands of Shochu.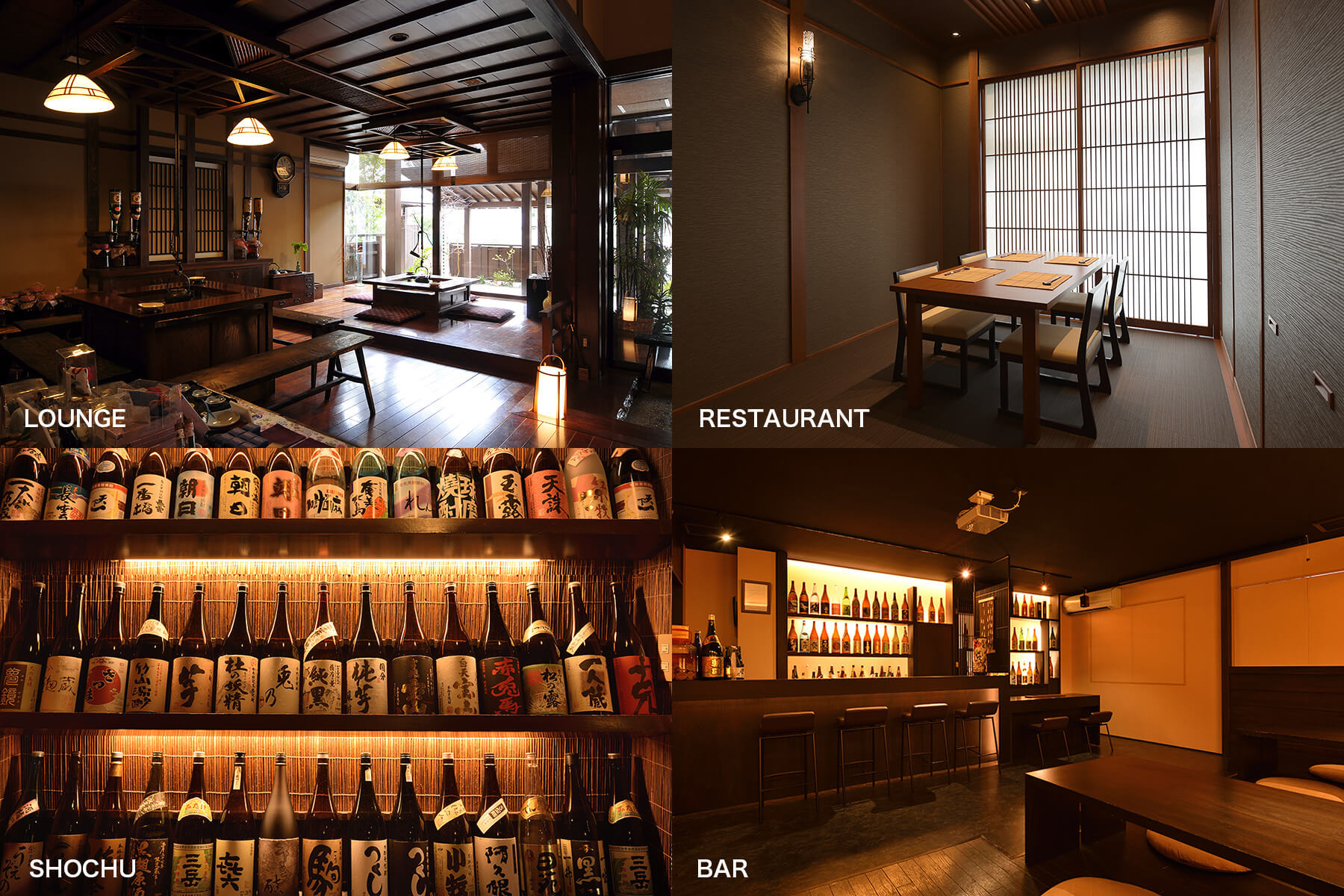 FACILITIES
Our home-made Japanese sweets are served at the lounge with the Irori (Japanese open hearth). Please relax first. Please do not hesitate to consult the front desk for assistance. We have a counter for Shochu tasting. Please feel free to try them.
"Usagino SAKE BAR" with a hundred or more brands of Shochu also have other drinks such as Sake and Beers.
(Open Fri, Sat and Sun from 20:30 to 23:00)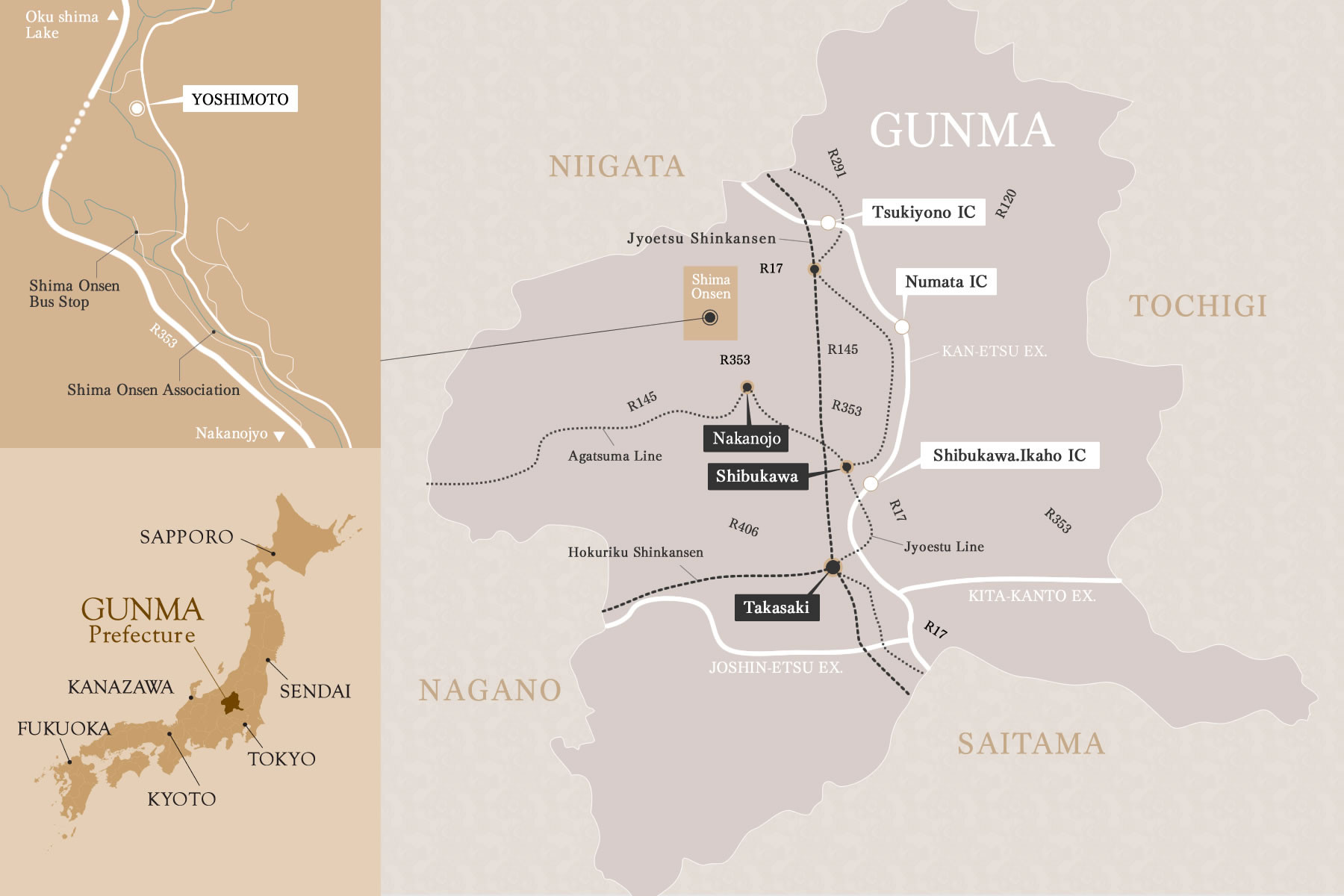 ACCESS
BY PLANE

From Haneda International Airport(Tokyo International Airport)
Haneda International Airport / Monorail (about 17 min) → Hamamatsucho Station / JR Yamanote Line (about 13 min) → Ueno Station / new express Kusatsu issue (about 2 hours 9 min) → Nakanojō Station

From Narita International Airport
Narita International Airport / Narita Express (about 60 min) → Tokyo Station / JR Yamanote Line (about 7 min) → Ueno Station / new express Kusatsu issue (about 2 hours 9 min) → Nakanojō Station

BY CAR
From the Tokyo area
Nerima IC/Kan'etsu expressway → Shibukawa Ikaho IC → Route 353 → Yoshimoto

From Niigata district
Niigata Nishi IC/ Kan'etsu expressway → Tsukiyono IC → Route 145 → Route 353 → Yoshimoto

From Nagoya district
Komaki JCT/Chuo express way → Okaya JCT/Nagano expressway → Koshoku JCT/Joshin'etsu expressway →Ueda Sugadaira IC → Route 144 → Route 145 → Route 353 → Yoshimoto

BY TRAIN
From the Tokyo area
Ueno Station/New limited express Kusatsu → Nakanojo Station
Tokyo Station/Joetsu Shinkansen → Takasaki station/JR Joetsu line → Shibukawa station/JR Agatsuma line → Nakanojō Station

From Niigata district
Niigata Station/Joetsu Shinkansen → Takasaki station/JR Joetsu line → Shibukawa station/JR Agatsuma line → Nakanojō Station

From Nakanojō Station
30 min by taxi (18.1km).
Or take the fixed route bus from Nakanojo Station to the last stop "Shima Onsen", then walk 10 min. (timetable here)

BY BUS
This is expressway bus from JR Tokyo station, Yaesu-dori bus terminal to Shiman Hot spring. To reach our inn, get off the bus at the last stop "Shiman Onsen" and then walk about 10 min. They have additional bus services in winter.

[Departure] Depart 9:00 at Tokyo Station Yaesu-dori Bus terminal Arrive 12:30 at Shiman Onsen
[Return]Depart 13:45 at Shiman Onsen Arrive 17:30 at Tokyo Station Yaesu-dori Bus terminal
[Fees] One-way 3,100 yen Round-trip 5,100 yen (half price for children under primary school)
[Contact] Kanetsu Transport Co., Ltd. TEL 0120-12-8805 (Click here for details)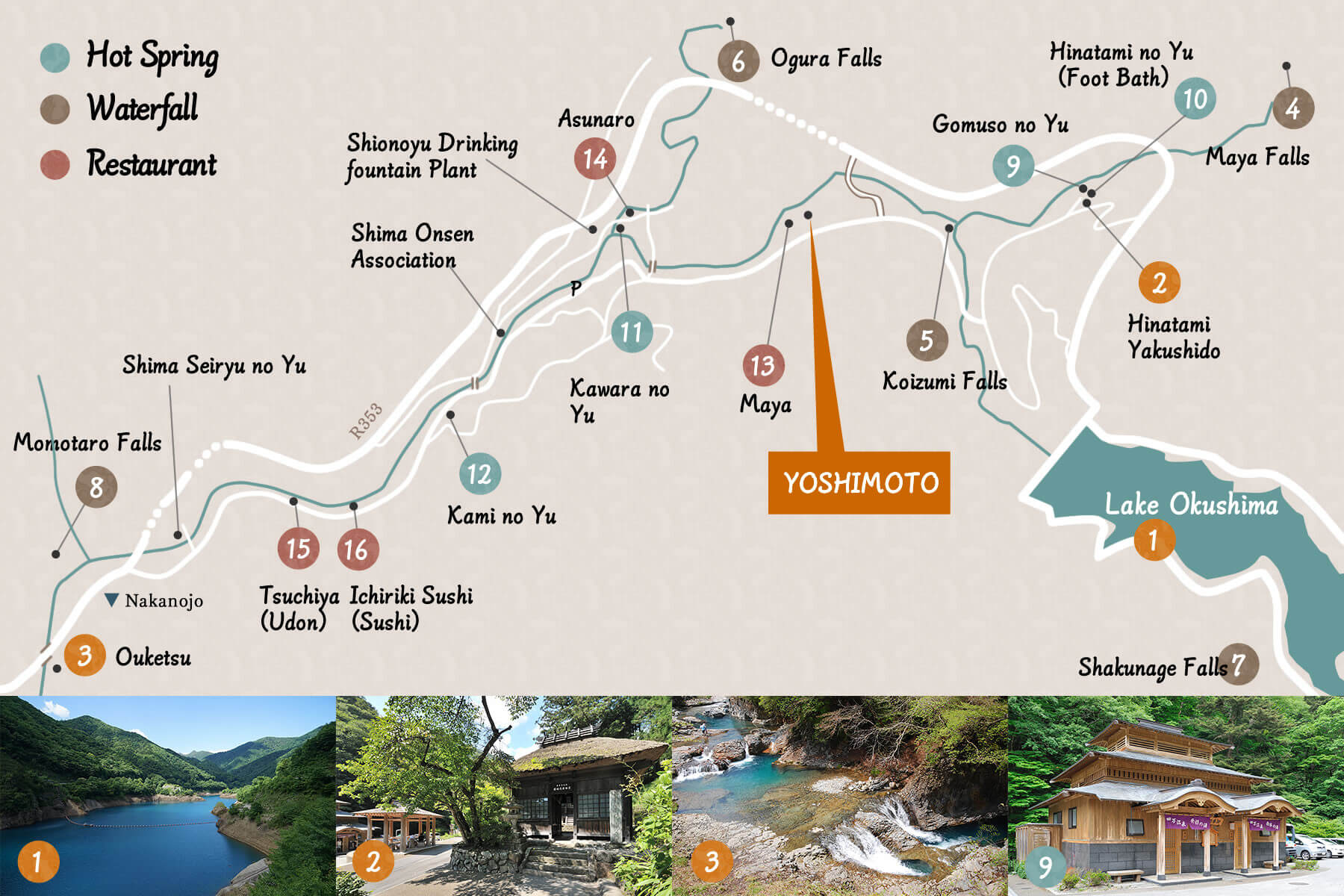 TOURIST GUIDE
Shima Onsen has some sightseeing spots such as "the Lake Oku Shima" famous for its blue water, and a historical temple called "Hinatami Yakushi-do." There is the River Shima with beautiful jade color behind the inn.

1.Lake Okushima
This is an artificial lake with about 5km circumference. This lake is known for its color curiously changing many times a day, and is compared with Goshiki-numa (five-colored pond) in Urabandai. This lake is good for walking and fishing.

2.Hinatami Yakushido
Hinatami Yakushi-do, which is the only National important cultural property in Gunma prefecture, is a small thatched temple build in 1598 in the Muromachi era. There is "Gomuso (dreaming) Hot spring" just next to the temple.

3.Ouketsu
Ouketsu (Giant's kettle) is a round hole created in a rock at the bottom of a river by erosion with swirling in the river. You can see eight of the art created by the nature in several ten thousand years.

Gomusou no Yu
You can enjoy the source of spring, which founded Shiman hot spring. According to the legend, a god gave the hot spring, saying "I give you a holy spring for caring 40,000 kinds of sickness." [Open 9:00 to 15:00]

Hinatami Yakushido no Yu(Foot Bath)
This is footbath next to Gomuso hot spring. Please relax your tired foots, maybe after walking.

Kawara no Yu
This is located at the end of Hagi-bashi Bridge, from which you can enjoy the view of the river in front of you. You can enjoy the atmosphere of a cave bath from the outer look and inner walls of the bath. [Open 9:00 to 15:00]

Shima Onsen Association
http://www.shimaonsen.com/en/
STAY PLAN
1 night 2 meals
The standard plan of Yoshimoto is a room with two meals.
https://www3.yadosys.com/reserve/en/plan/detail/002/heclhjgfgjgpffdcgjhhfjdn/all/00173

1 night dinner
For guests checking out early in the morning, we recommend a plan for a room with dinner only.
https://www3.yadosys.com/reserve/en/plan/detail/002/heclhjgfgjgpffdcgjhhfjdn/all/00174

1 night breakfast
If it is difficult to arrive within the dinner time, we recommend a plan for a room with breakfast only.
https://www3.yadosys.com/reserve/en/plan/detail/002/heclhjgfgjgpffdcgjhhfjdn/all/00175